Carlos Rey Lillo (Missing Person)
If you have any information as to this person's whereabouts, please contact the number provided. You can submit photos and descriptions of missing people on our Who's Ok page. PLEASE NOTE: We cannot take suggestions for missing people, please submit your photos to the services mentioned in the link above.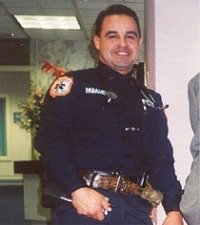 Age: 37
City of Residence: Queens
Emergency Medical Technician for Astoria General Hospital
Description: Height 5'8", weight 195 lbs., brown hair, brown eyes
Last seen: WTC, helping injured
If you have any information on Carlos, please contact the NYC missing persons hotline at 212-560-2730 or the New York Family Relief Center hotline at 212-447-2998.
Nearly half a million people have visited; viewing well over a million pages since September 11th, 2001.