Melissa Doi (Missing Person)
If you have any information as to this person's whereabouts, please contact the number provided. You can submit photos and descriptions of missing people on our Who's Ok page. PLEASE NOTE: We cannot take suggestions for missing people, please submit your photos to the services mentioned in the link above.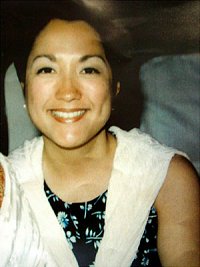 Please help a mother find her daughter missing from 2 WTC last heard from 44th floor on cell phone she stated that she loved her mother and that she was with some firemen and that it was very hot were she was. No further contact has been received:

Melissa Doi
180 Davis Ave.
apt 12A
Throggs Neck, Ny 10465

718-239-9586
917-570-3463
917-716-3848

DOB 9/1/69

Female Asian/American 135lbs. 5'2" brown short(chin length) hair, brown eyes, small scar on her cheek. Wearing blue denim top/black tanktop brown capri pants gold blue sapphire/diamond ring maybe earrings

Worked for:

IQ Financial
2 WTC
83rd floor
last heard on 44th floor
Nearly half a million people have visited; viewing well over a million pages since September 11th, 2001.