Yvonna L. Bomono (Missing Person)
If you have any information as to this person's whereabouts, please contact the number provided. You can submit photos and descriptions of missing people on our Who's Ok page. PLEASE NOTE: We cannot take suggestions for missing people, please submit your photos to the services mentioned in the link above.
Yvonne L. Bomono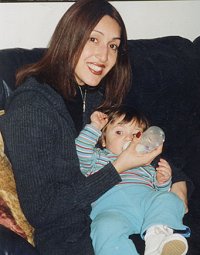 30 years old - Date of birth 12/15/70
5'6" - 118 lbs
Brown eyes - Reddish Brown hair
Small scar under her left eye

Yvonne worked for American Express Travel/Marsh McLennan on the 96th floor of One World Trade Center. Her family's last contact was (Tuesday) morning around 8:45 AM. She was at her desk on the 96th floor.

Her family and friends are urging anyone with any information to please call: (718) 424-2412 or (718) 639-8114.
Nearly half a million people have visited; viewing well over a million pages since September 11th, 2001.